Home

>

RONAN 3 in 1 Cutting Tool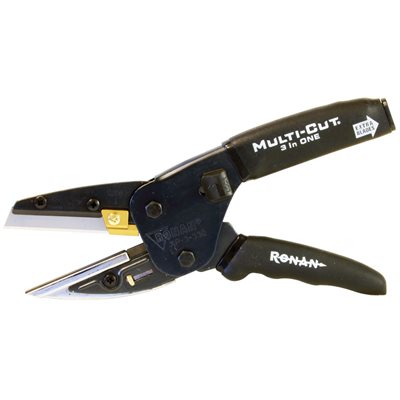 Press and move to zoom.
Mouse over image to zoom.
RONAN 3 in 1 Cutting Tool
Product Code:RON330
2 1/2 Inch Utility Cutter
The 3-in-1 has a mechanical action different from that of scissors. With scissors you're limited to cutting sheets of material, such as paper, fabric and thin plastic. The Multi-Cut 3-in-1 has a mechanical action of a blade coming down onto a flat anvil. This design combined with a razor sharp blade & an offset pivot point gives you incredible cutting ability for cutting thick & rigid materials that have density.
The 3-in-1 also has a retractable anvil. While the anvil is retracted the razor blade protrudes forward converting the tool to a utility knife that is ideal for cutting carpet, linoleum, cardboard, drywall, etc. When used as a utility cutter it cuts plastic, linoleum, shrubs, thick leather, all types of hoses, automotive belts, PEX pipe, upholstery, dowels, hobby & craft items. Inch graduations are etched into blade to aid in notching or simple measuring. It finishes the cut against a replaceable high impact plastic anvil that protects the blade from wear while it prevents splintering and fraying.
The 3-in-1 uses industrial rated USA made steel razor blades manufactured to the demanding specifications of Ronan tools. These special razor blades will last an average of 18 months each and can be easily replaced. In fact, your 3-in-1 comes with 3 extra blades stored in the handle for your convenience. Replacement blades can also be purchased from Fehr so your 3-in-1 will always be razor sharp for precise, easy cutting.
Product:
RON330
Brand:
Ronan
Type:
2 1/2 Utility Cutter

Approx Weight Each :

1.36 lbs.
Jaw Length:
2 1/2 inches
Product Handle:
Vinyl
Package Quantity:
1
Always wear approved eye protection.
Never use on or near live electrical circuits.
Blades are intended for cutting only, and should be handled and disposed of with care.
Bending the blade can cause it to break, possibly resulting in bodily injury.
Blade is extremely sharp, use care when opening package.