Royal Thermostop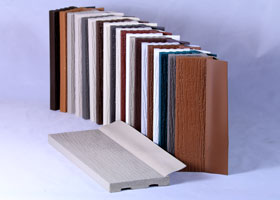 Garage Door System's five styles of jamb seal are now available in 25 colors to match up beautifully with today's doors.
Royal Jamb Seal is designed to be low maintenance from lifetime never rot material and engineered to seal out dirt, bugs, wind, snow and water making it the perfect product to trim out both new doors and for the replacement of old wood jambs. Style 2591 (3-1/4" wide) will cover old paint lines when replacing existing wood stop.
All five styles are also available as pre-drilled. Royal recommends pre-drilling for installation in temperatures below 40°.
*Certain colors are run to order and may require a minimum number of linear feet. Call us so that we can coordinate your order to align with the manufacturing schedule.