Some services are not accessible on smartphone
Home

>

66" Earth Anchor w / 6" Helix, 3 / 4" Rod, HG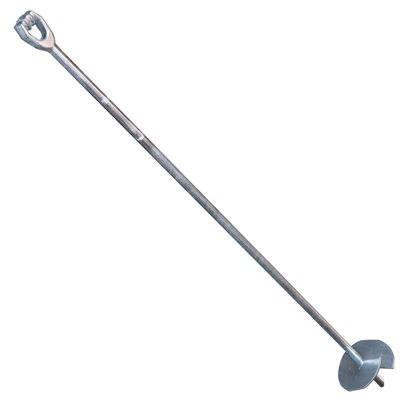 Press and move to zoom.
Mouse over image to zoom.
66" Earth Anchor w / 6" Helix, 3 / 4" Rod, HG
Product Code:HELIX6-66
Professional Grade Earth Anchor
Helix OD: 6"
Length: 66"
Rod Diameter: 3/4"
Finish: Galvanized to ASTM A153, Class C
Typical Working Torque 3/4" rod: 400 ft-lbs.
Ships Common Carrier only, Shipping Weight: 12 lbs.
Approx. Holding Capacities (see Soil Classifications):
Class 5: 6,500 lbs.
Class 6: 5,000 lbs.
Class 7: 2,500 lbs.
Heavy Duty Earth Anchors may be used to attach guy wires for securing structures such as metal buildings, small towers, docks; for anchoring erosion control barriers as well as for many other applications. Anchors are installed by turning the anchor into the ground, utilizing a turning bar placed through the anchor's forged eye. No Wrench Utility Anchors can be installed by hand or by machine. Anchors have a forged triple eye, heavy duty helix welded on both sides and an angled point to ease installation.
Anchors are hot dipped galvanized to meet ASTM Specification A153, Class C Grade 80 coating for maximum corrosion resistance.
Soil Classifications:
Class 5: Medium dense coarse sand and sandy gravels; stiff to very stiff silts and clays Saprolites, residual soils.
Class 6: Loose to medium dense fine to coarse sands; stiff clays and silts; dense hydraulic fills; compacted fills; residual soils.
Class 7: Loose fine sands; Alluvium; loess; stiff & varied clays; flood plain soils; lake clays; adobe; gumbo; fill.
Anchor requirements are site specific. Soil type should be determined to assure that the correct anchors are used. Seek professional guidance. Anchors must be installed at an angle of 45 degrees in the direction of the guy load. Failure to install within 5 degrees of alignment of the guy load will significantly lower strength. Capacity ratings apply to properly installed anchors only.
SAFETY FIRST: Call 811 before digging. Underground utility lines are marked for free. For more information visit:
www.digsafe.com
Holding strengths are based on approximate industry standards. Determining soil load capacity is an inexact science limited by changing moisture content, soil compaction, root penetration, installation method, pullout load angle, attachment angle and other factors. It is recommended to do on-site probing and torque testing. When in doubt seek professional guidance.
SAFETY FIRST: Call 811 before digging. Underground utility lines are marked for free. For more information visit:
www.digsafe.com