Some services are not accessible on smartphone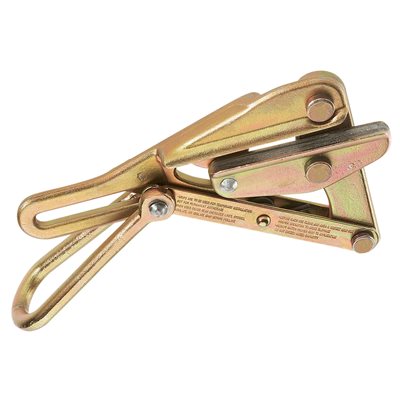 Press and move to zoom.
Mouse over image to zoom.
Klein Chicago Grip For Extra High Strength Cables, Messenger, Guy Strand .12" to .37"
Product Code:CP1613-40
Chicago® Grip for Extra-High-Strength Cables, Messenger, Guy Strand.
Double ''V'' grooves give four-point contact, reducing chance of slipping and providing proper alignment of wire and cable.
This Klein Tools 1613-40 Chicago Grip is designed for EHS, Messenger, and Guy Strand cable. The double V grooves provide four-point contact, which reduces chances of slipping and also provides proper alignment of wire and cable. All Klein grips are manufactured from custom drop-forged steel that is machined and heat treated for excellent durability.
Designed for cable sizes from .12'' (3.10 mm) to 0.37'' (9.40 mm).
Product:
CP1613-40
Brand:
Klein Tools
Type:
Cable Puller

Approx. Weight Each :

3 lbs. (1.4 kg)
Jaw Length:
4-3/16" (106 mm)
Maximum Cable:
.37"
Maximum Safe Load-kg:
2041 kg
Maximum Safe Load-lbs.:
4500 lbs.
Minimum Cable:
.12"
Sub Brand:
Chicago Grip
Before each use, clean jaw area and inspect grip for proper operation to avoid slippage.
When used on/near energized lines, ground, insulate, or isolate grip before pulling.
Do not exceed rated capacity.
Always match proper size and type of grip to application.
Grips are to be used for temporary installation, not for permanent anchorage.
You may also be interested in