Some services are not accessible on smartphone
Home

>

KWIK-LOC Wire Joiner, use with 1 / 16 Cable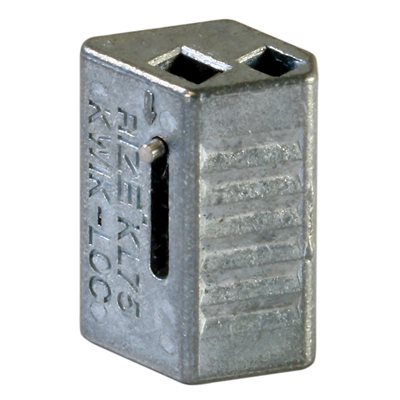 Press and move to zoom.
Mouse over image to zoom.
KWIK-LOC Wire Joiner, use with 1 / 16 Cable
Product Code:KL75
50 pcs. pack
5:1 Safe Working Load Limit 75 lbs. with a 10lb. minimum load
For use with 1/16" Cable
The Kwik-Loc is a fast and reliable way to tension steel cable. These cable tensioners are used as both an anchor and a joiner. The Kwik-Loc is a self-locking devise that can be easily adjusted and released with no need for other tools. The key components to this revolutionary cable lock are the internal locking wedges. The wedges incorporate a release pin for easy adjustment. Each wedge makes contact with the steel cable using serrated teeth. These teeth press onto the wire rope and spread the load across the length of the wedge, maximizing grip strength. Kwik Loc (also called Kwik Lock or Quick Lock) cable lock is a fast and reliable cable suspension system for fluorescent lighting, HIDs, sound systems, cable trays, or fan units.
All Kwik-Locs have been tested, and are UL Listed to UL 1598 and are listed under file number E246601.
Manufacturer's Recommendations
DO NOT USE FOR LOADS OUTSIDE THE STATED RANGE OF THE PRODUCT
DO NOT EXCEED THE SAFE WORKING LOAD OF THE PRODUCT
DO NOT USE ON COATED WIRE ROPE
DO NOT APPLY PAINT OR OTHER COATING
DO NOT APPLY LUBRICANT
DO NOT USE FOR LIFTING OR DYNAMIC LOADS
KEEP THE PRODUCT CLEAN AND FREE FROM DIRT
REMOVE DAMAGED CABLE END PRIOR TO INSERTING INTO THE KWIK-LOC
DO NOT USE IN CHLORINATED ATMOSPHERES
FOR DRY LOCATIONS ONLY
You may also be interested in