Some services are not accessible on smartphone
Home

>

1 / 8 X 250 FT, 7X7 Zinc-Aluminum Coated Cable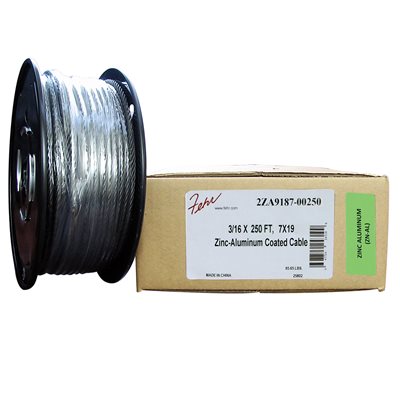 Press and move to zoom.
Mouse over image to zoom.
1 / 8 X 250 FT, 7X7 Zinc-Aluminum Coated Cable
Product Code:2ZA7125-00250
1/8" Zinc-Aluminum Coated Aircraft Cable
Flexible 7 x 7 Construction
Commercial Grade
Min. Breaking Strength: 1,700 lbs
Not suitable for Aircraft Controls
250 ft/reel
Weight 28 lbs/mft
A 95% Zinc/5% Aluminum coating has been shown to provide up to 3 x's the corrosion resistance of regular hot-dipped galvanizing. The aluminum content oxidizes to form a protective layer that actually improves over time. At a lower price point than Stainless Steel, ZN-AL Steel Cable offers an affordable alternative to Stainless Steel.
7x7 aircraft cable is one of the most common, cost effective and versatile wire ropes. The 7x7 construction is of medium flexibility and is used in many of the same applications as 7x19 but where a little less flexibility is needed. This small diameter wire rope is not intended for aircraft use, but designed for industrial, agricultural and marine applications.
Independent Lab tested and verified.
Inspect regularly for visible damage, distortion, elongation, corrosion, cracks, nicks or abrasion, which may cause failure or reduce the strength of the Wire Rope.
Wire Rope and Steel Cable must be stored, used, lubricated and maintained in accordance with the normal safety standards.
Verify that replacement Wire Ropes are correct for your application and meet your specifications.
Avoid shock loads. Do not load Wire Rope to the breaking strength limits. End user must determine an appropriate safety factor for the application.